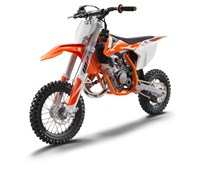 Made for speed and style, KTM motorcycles come in an option for every preference. From street riding to off-roading, we have all the top models right here to keep this powerhouse in peak condition.
When looking for power and speed coupled with state-of-the-art design elements, it is no wonder so many people choose KTM motorcycles for their riding needs. From their intrepid engines to the attractive bodies, their bikes have plenty to offer making them a fan favorite. When shopping for KTM OEM parts for your customers, we have everything you need to keep the ride going on their favorite set of wheels.
When looking at the brand itself, there have been many important milestones to shape the company into the fan favorite of today. Formed in 1992, the motorcycle company was quick to gain a following thanks to their sleek and fast off-road bikes. They would eventually venture into street bikes combining the best of off-road handling with the needs of riding on the highway. In fact, the brand sold an equal sale share of both types of bike in 2015 further solidifying their standing as the one to beat for versatility. Since 2012, the company has been the largest motorcycle manufacturer in Europe and shows no signs of slowing down.
With such a strong presence on the market, it makes sense to have a few essentials on hand for your customers covering this name. With our inventory of KTM OEM parts at the ready, give your customers the best solutions for their ride. With OEM (Original Equipment Manufacturer) solutions, you give your customers the performance intended by the manufacturer to ensure the best results. It can also help the part last longer while aiding in the overall performance of the bike. The use of KTM OEM parts also ensures proper fit in terms of sizing and specs to get the job done. Give your customers the peace of mind they deserve with our selection of solutions direct from the manufacturer.
We offer a wide selection of KTM OEM parts to fit the needs of your shop. When shopping for these essentials, it is important to note that we break up our inventory by year since a model can vary greatly from one year to the next in terms of specifications. We offer options ranging from 1994 all the way to the most current lineup to give you the range you need for your customers. Aside from the year, we also break up the inventory by model and more specifically the series within each model. For example, the 250 model comes in 250 SX, SX-F, XC-F, and XC-W to name a few series within the model. Our inventory is set up to make shopping for the essentials as easy and hassle-free as possible. We carry all the most sought after, and even the more obscure, models and series from this company to make sure you have everything you need to satisfy customers.
In addition to the wide scope of available years, models, and model series, our inventory also offers diversity in terms of part types. From air filters to wiring harnesses, you will truly find it all right here. We carry all the major areas of the machine such as options for the engine, brakes, fuel system, and more. Whether you need something for the cultch, crankshaft, fuel pump, or lubricating system, we have you covered with all the must-have items your customers need to keep their ride in great condition. We even show a diagram of the overall system or area so you can be sure you are ordering the right replacement part for the model and series. No matter what type of solution you need, we have it for a hassle-free shopping experience.
One of our main focuses is affordability. We believe high-quality solutions should be both reliable and affordable with compromise. Our inventory features an option to meet your budget with ease so you can give your customers exactly what they need without worry. We are also committed to outstanding customer service on our end. If you have any questions while shopping with us, please reach out today for assistance, and a member of our team will help in any way.